Like most breweries, Bottle Logic lacks a taproom liquor license, meaning mezcal Margaritas and rum-soaked Mai Tais are off the menu. Maybe five years back, missing cocktails was no big deal. The Anaheim, California, brewery's award-winning barrel-aged stouts and barley wines were a strong draw and differentiator. But today, "it's so easy now to find excellent beer," says creative director Lindsay Langton. "So what else can you build?"
Langton complements Bottle Logic's Luxology hard seltzer brand with cocktails built from a not-so-spirited approach. She starts with a robust hard seltzer, somewhere around 16 to 17 percent ABV, and ages it in barrels that formerly held tequila, rum, and other spirits. The hard seltzer fast gains tannic complexity and the liquor's lingering flavor, emerging four or five months later like an ersatz spirit. Next, Langton blends barrel-aged seltzer with fruit juices and botanicals to create cocktail-inspired drinks such as Smoke Sting, a variation on the mezcal-infused Killer Bee, and the tropical Birds of Paradise is modeled on the rum-driven Jungle Bird. "We're building them with ingredients that you'd find in a traditional cocktail," Langton says of the drinks that might range from 11 percent to almost 15 percent ABV.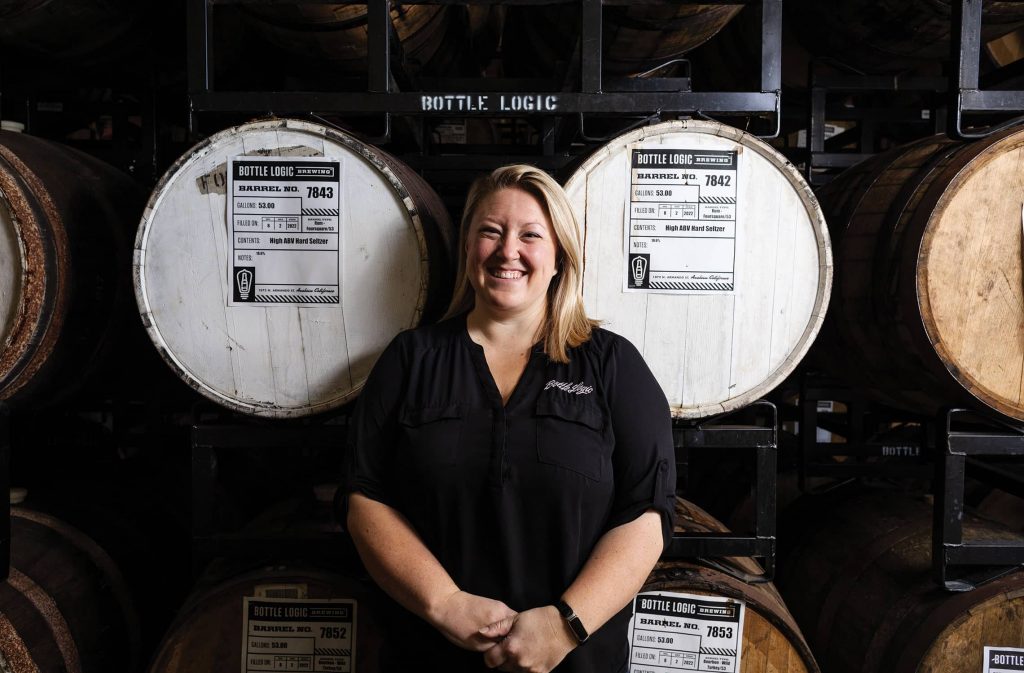 Bottle Logic Creative Director Lindsay Langton. | Photo by Eugene Lee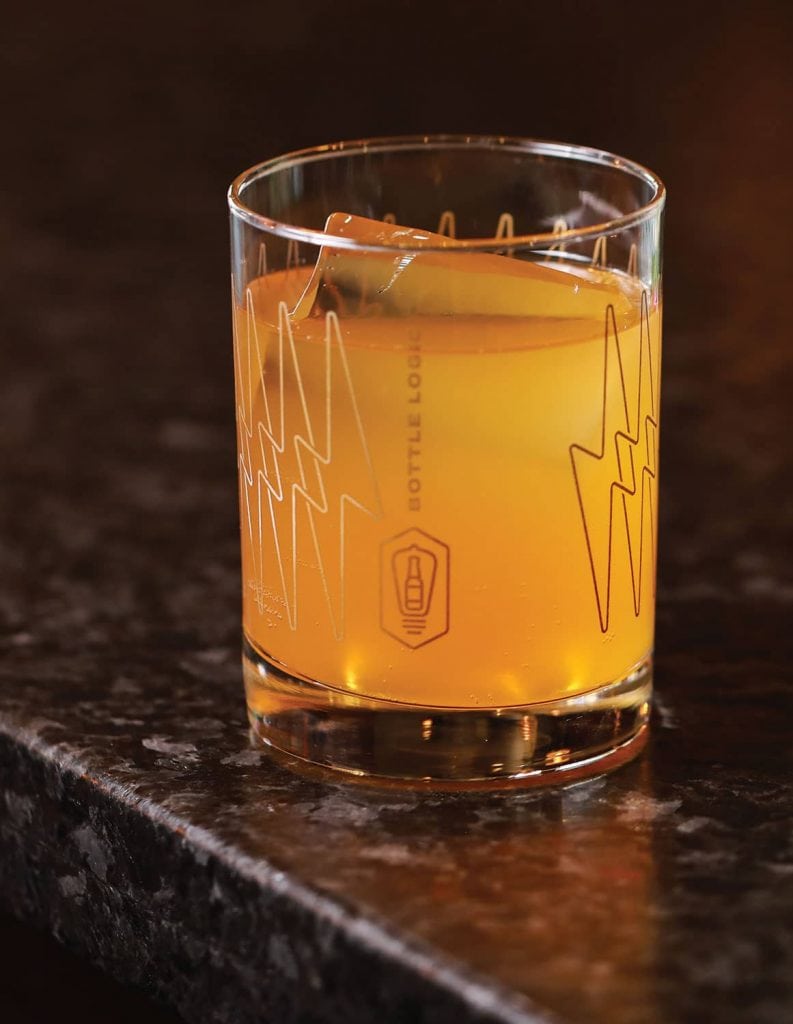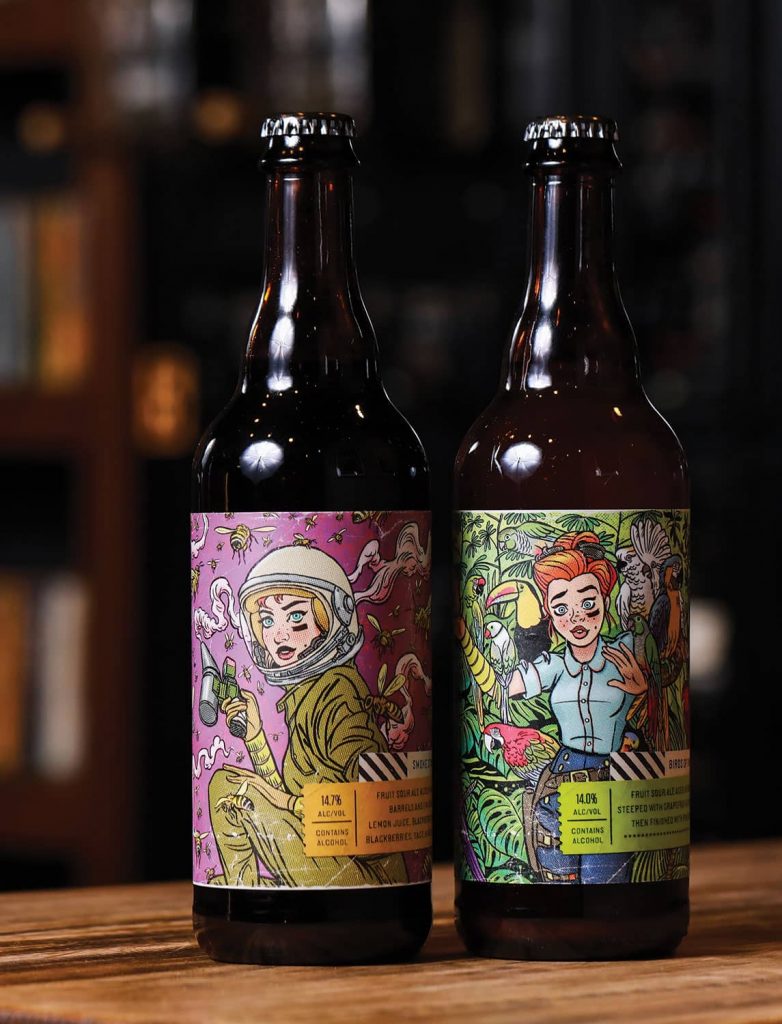 Left: Bottle Logic's Birds of Paradise, served over ice. Right: Bottles of Smoke Sting, a variation on the mezcal-based Killer Bee, and Birds of Paradise, a take on the Jungle Bird cocktail.| Photos by Eugene Lee
Last April, the brewery debuted its first two Lightning in a Bottle releases, serving taproom customers the colorful carbonated cocktails in rocks glasses containing crystalline cubes of hand-cut ice. The pomp "helps put people's brains in the right spot to receive this liquid as a cocktail experience," says Langton.
Nary a month passes without the brewing industry facing a fresh existential threat. Hard seltzers, carbon dioxide shortages, busted supply chains, and rolling pandemic closures have forced breweries to adjust and adapt to a never-static status quo. Now breweries are contending with a triple whammy of slowing beer sales, increased expenses, and the ascendancy of spirits and convenient ready-to-drink (RTD) cocktails. Dollar sales of spirits-based RTDs grew by 42 percent in 2021, according to the Distilled Spirits Council of the United States, as "consumers gravitated toward RTDs as a convenient way to enjoy their favorite cocktail at home during the height of the pandemic," president and CEO Chris Swonger said in a statement.
Forget conceding to cocktails. Breweries are embracing a fighting spirit by aging beer in oak barrels that once held bitters, helping replicate classic cocktails…
Forget conceding to cocktails. Breweries are embracing a fighting spirit by aging beer in oak barrels that once held bitters, helping replicate classic cocktails, and making canned Micheladas with custom mixes. Taprooms are doubling as cocktail bars where mixed drinks rival beers for creativity, and breweries are developing RTDs that lean into regional favorites like the tequila-packed Texas staple Ranch Water. To find new customers, "you don't need another IPA right now," says Fred Matt, the president of F.X. Matt Brewing Co., makers of Saranac beer and Right Coast Spirits, a ready-to-drink cocktail brand that debuted last summer. (Right Coast is a collaboration with Mass Bay Brewing's Harpoon and Flying Dog Brewery.) "In today's world, you'd better be exploring beverage opportunities outside of beer."
Craft breweries have long tried building bridges linking beer and other alcohol categories. Season a stout in bourbon barrels or add Merlot grapes to a sour ale, and the hybrid beverages might steer spirit and wine fans to the beer aisle. Some attempts succeeded; many flopped. But as potent double IPAs surge, the moment might be primed for cocktail-inspired beers delivering big flavors and boozy heft.
Last year, Bent Water Brewing in Lynn, Massachusetts, released a quartet of high-alcohol beers targeting cocktail drinkers, including a Manhattan-inspired imperial stout aged in rye barrels with sweet cherries and brûléed orange peel. "It's an introduction to great craft beer for people that are probably drinking spirits," says co-founder and president Aaron Reames, adding that it's a potential audience of "tens of millions of individuals."
The global cocktail canon also provide sample roads to reach new beer drinkers. Mexican American siblings Javier and José Lopez run Chicago brewery Casa Humilde Cervecería, making beers with Latin ingredients such as Mexican coffee and vanilla beans and piloncillo sugar. For Michelandia, their version of the spiced Michelada beer cocktail, the brothers hand squeeze limes to make a spicy tamarind mix. Instead of blending it with a customary lager, the brothers designed a dry and peppery saison. "It gives another layer of complexity," Javier says.
As with mixed drinks, making sublime cocktail-inspired beers begins with great ingredients. Think about the difference between a Margarita built with just-squeezed lime juice versus one made from a nuclear green mix. For a decade, brewer Eric Ponce maintained a list of cocktails that inspired him, brainstorming methods to convert them into beer without relying on packaged syrups and shortcuts. "I wanted it to be 100 percent beer," says Ponce, the barrel program manager at Firestone Walker Brewing in Paso Robles, California.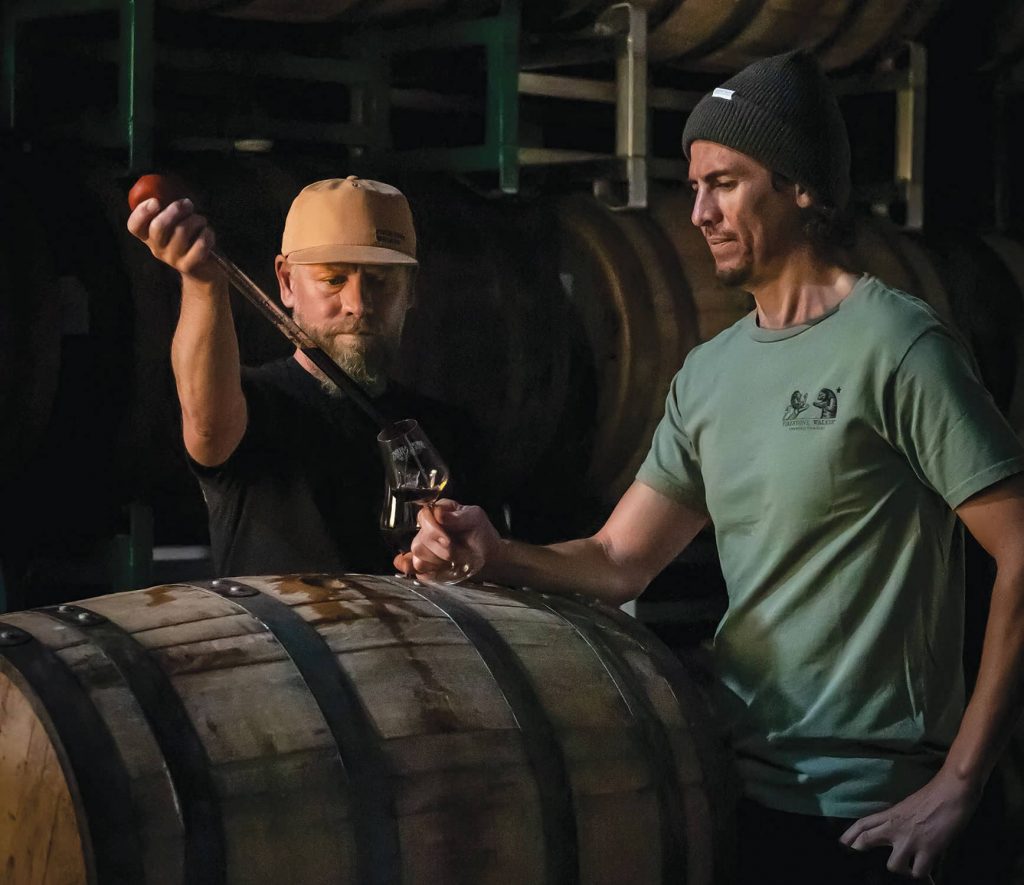 Matt Brynildson (left) and Eric Ponce checking a beer aged in orange bitters barrels at Firestone Walker Brewing. | Photo courtesy of Firestone Walker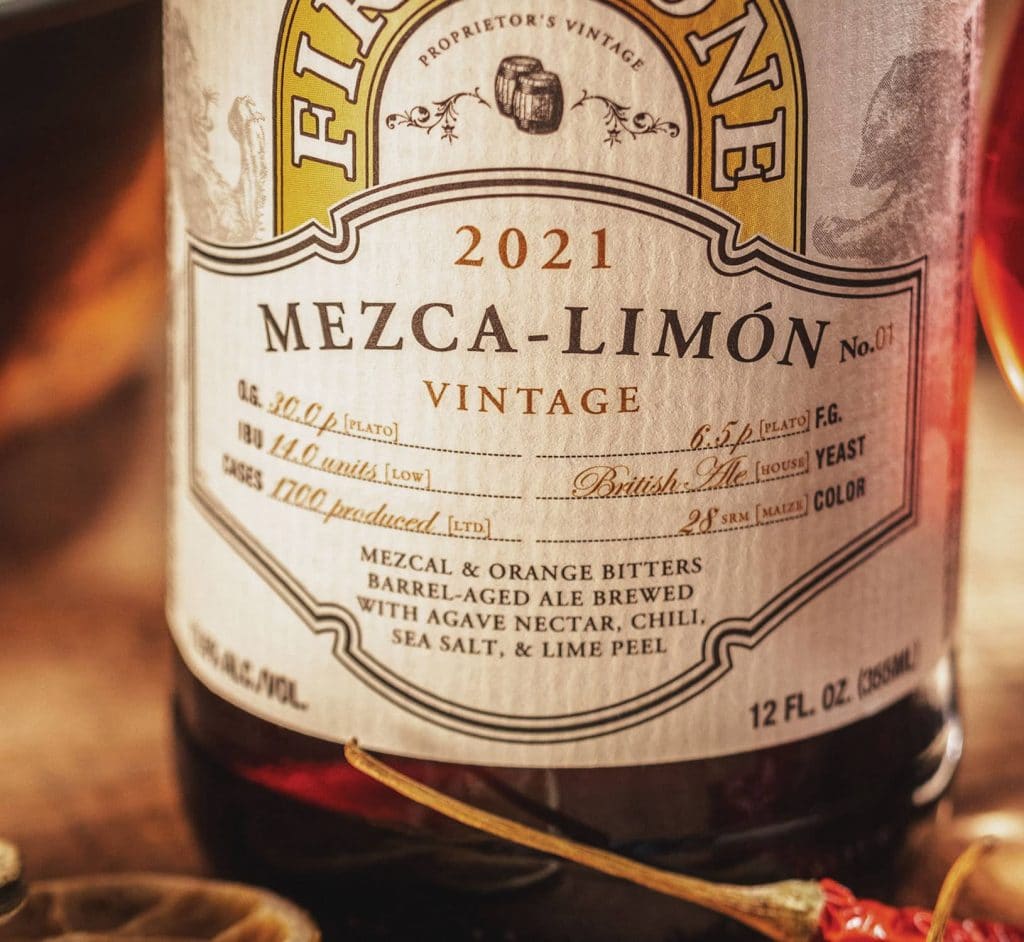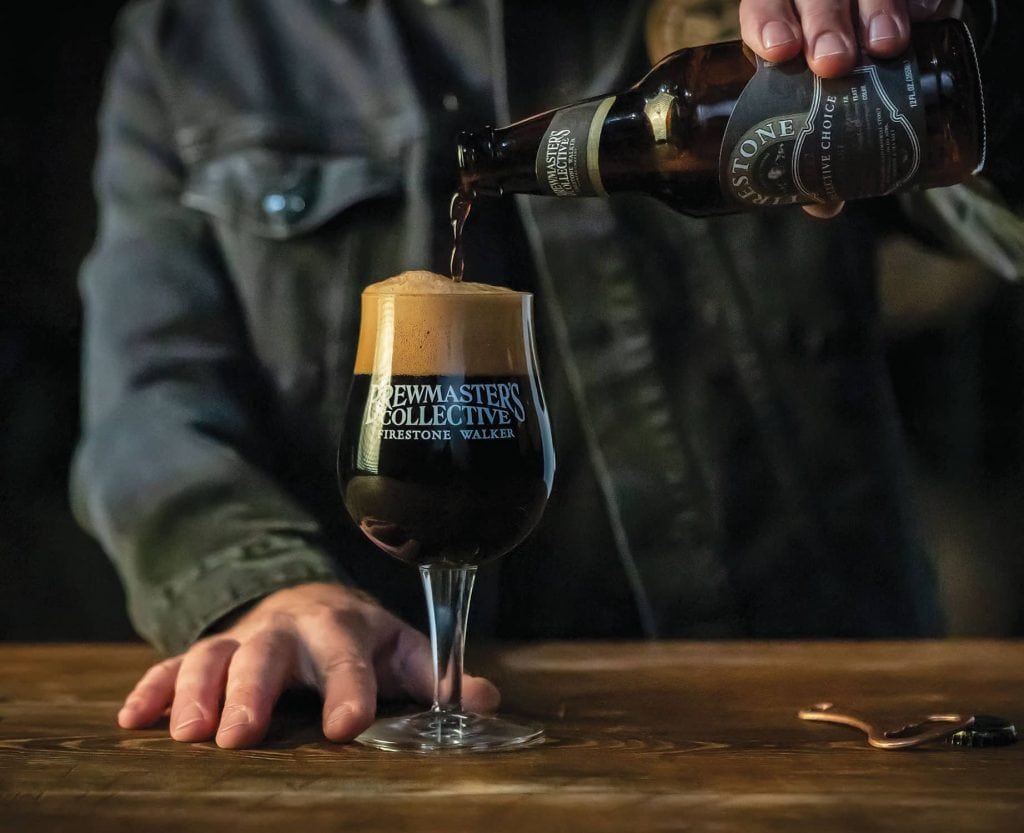 Left: Firestone Walke's Mezca-Limón, based on the Mezcalita, and the brewery's Collective Choice imperial stout, a beer aged in bourbon barrels and chocolate bitters barrels. | Photos courtesy of Firestone Walker
Ponce oversees a warehouse filled with Belgian-style quadrupel, smoked porter, blonde barley wine, and more aging in bourbon, Cognac, Armagnac, and "every type of barrel." The recipe hack arrived from Woodford Reserve. The Kentucky distillery ages its bitters in former bourbon barrels, then sends the scented empty casks to Firestone Walker. "Almost every cocktail has a dash of aromatic," says Ponce, who realized he could replicate that ingredient by aging beer in bitters barrels. "It just gives you that perfect cue to make the beers complex and match that flavor.
"Over the last six years, Ponce has created more than a dozen cocktail-inspired beers. They include the Old Man Hattan, a fusion of the Old Fashioned and Manhattan; the Sidecar-style Gold Rider; and the Mezca-Limón, based on the citrusy, Tajín-rimmed Mezcalita. Ponce aged a base beer brewed with chili peppers, sea salt, and agave in both mezcal and orange bitters barrels, then brightened it with lime zest. "I want to open up doors that willbring people into the beer world," Ponce says.
Breweries once viewed 100-calorie hard seltzers as antagonists, gobbling market share, then as potential protagonists in economic success stories. But sales have decelerated, leading breweries to recast and reformulate hard seltzers as cocktails.
By its own admission, Dry Dock Brewing was late to the party when it released its Mysters Hard Seltzer across Colorado in early 2020. "We thought, 'What else can we make to appeal to people shifting from craft beer?'" says Kevin DeLange, a co-owner of the Aurora, Colorado, brewery. Most breweries make hard seltzer by creating a higher-proof base that's cut to 5 percent ABV. Dry Dock instead trimmed its hard seltzer to 9.5 percent ABV, then spent around nine months in RD with its distributor to create the trio of beachy Docktails, including Cucumber Margarita and Strawberry Basil Daiquiri. "Docktails make people think cocktails and then they see the flavor," DeLange says. Since their release last April, Dry Dock has seen success selling Docktails in grocery stores, which Colorado forbids from selling liquor. "Docktails give grocery stores a cocktail-like item that they can legally sell."
Simulating a cocktail without distilled spirits is both a challenge and part of a brewer's expanding duties.
Cocktail-like hard seltzers also offer one-stop convenience for grocery shoppers in Texas, where alcohol is off the grocery shelves. Do you want a spirit-based Ranch Water cocktail, or is Karbach Brewing's Ranch Water Hard Seltzer close enough? "They're not necessarily going to make a separate trip to the liquor store," says Karbach brewmaster Eric Warner. The Houston brewery has since added a malt-based Paloma and Margarita that deliver a robust 9 percent ABV, double that of the Ranch Water, and a sweeter profile. Simulating a cocktail without distilled spirits is both a challenge and part of a brewer's expanding duties. "We all grew up as diehard craft beer people, but we have to keep pace with changing consumer tastes."
That means cocktails, cocktails, and more cocktails, many featuring full-proof spirits. Boston Beer Company now makes Truly Vodka Seltzer, while Molson Coors Beverage Company, in conjunction with Coca-Cola, uses tequila and vodka in the Topo Chico Spirited line of RTD cocktails. And Cutwater Spirits, owned by AB InBev, continues expanding its canned offerings that count a Long Island Iced Tea, spicy Bloody Mary, and rum Mojito.
Dogfish Head is also bullish on distilled products. Within the next half decade, founder Sam Calagione says, he could envision a world where "over half of our Dogfish dollars are coming from spirits-based offerings." Dogfish Head installed a small still at its Rehoboth Beach, Delaware, brewpub in 2002, using the spirits to make cocktails served at its restaurant. In 2015, the brewery installed a larger distillery at its Milton, Delaware, campus, letting it scale up production for the vodka and gin used in its canned cocktails, which debuted in early 2021.
As with its beer, Dogfish Head centers culinary ingredients in its cocktails, including a blueberry shrub vodka soda and a series of fruited cocktails based on the Crush, a beloved Mid-Atlantic beach drink. Each cocktail is a uniform 7 percent ABV, which was "the highest we could go to have a level of drinkability that made people want to crack open a second can," Calagione says. Nonetheless, Dogfish Head is clear about the alcohol content. Its two variety packs, which contain eight cans, advertise that each cocktail contains two full-proof shots. "Understanding what consumers want to bring home for a package size for spirits-based RTDs is happening in real time," Calagione says.
Drinkers are increasingly equating elevated ABV with value. Last fall, Stone released its Buenafiesta line of tequila-filled canned Margaritas in four fruity flavors, including strawberry and pineapple habanero, that reach 12.5 percent ABV. "We wanted the real tequila flavor to shine through for a true cocktail experience," says Maria Stipp, the CEO of Stone Brewing in Escondido, California. Each 12-ounce serving contains the rough equivalent of two cocktails, meaning a $14.99 four-pack buys eight cocktails. Consumers might share, pouring a couple of Margaritas on the rocks, or double up on one big drink. "If you sit and do the ABV math at the grocery store, you'd say that's a good deal."
Brewery taprooms spread across America and attracted drinkers seeking a formerly scarce resource: just-brewed beer, poured in pints and taster flights. Novelty fast became normalcy and visiting breweries for fresh IPAs blended into the weekly routine, friends and family along for a drink. Excuse me, bartender, do you serve anything besides beer?
In the absence of spirits, breweries are getting resourceful with creating crowd-pleasing drinks. Veza Sur Brewing in Miami incorporates its beer into a dozen Latin-inspired cocktails, including a coffee porter topped with flan-flavored foam. Stone makes canned Margaritas, but its taprooms aren't licensed to sell hard alcohol. Instead, the brewery uses a strong hard seltzer to make frozen Margaritas served from a slushy machine. "We sell a lot of frozen Margaritas," Stone's CEO Stipp says.
Last fall, Door County Brewing overhauled the menu at Hacienda Taproom Kitchen, its restaurant in Milwaukee, Wisconsin, with an eye toward offering cocktails. Like many breweries, it can only serve beer and wine, so director of operations Jim Anderson sourced a neutral hard seltzer, around 14 percent ABV, and began tinkering with recipes to create a cocktail program. Using still seltzer flopped, as did shrubs, but the carbonated seltzer played well with citrus juices, tropical fruits, herbs, and simple syrups. "You wouldn't know the difference," Anderson says of cocktails, including a pineapple Paloma and pomegranate Mojito.
Bartenders prebatch mixes and purées and blend them with hard seltzer to make cocktails, or the mixes can be used for alcohol-free cocktails. The neutral hard seltzer lets Hacienda switch the cocktail menu seasonally, never wedded to a single drink. One small sticking point is selling some customers on the concept of a hard seltzer cocktail. "Consumers have an expectation of what a liquor drink is versus a seltzer drink," Anderson says.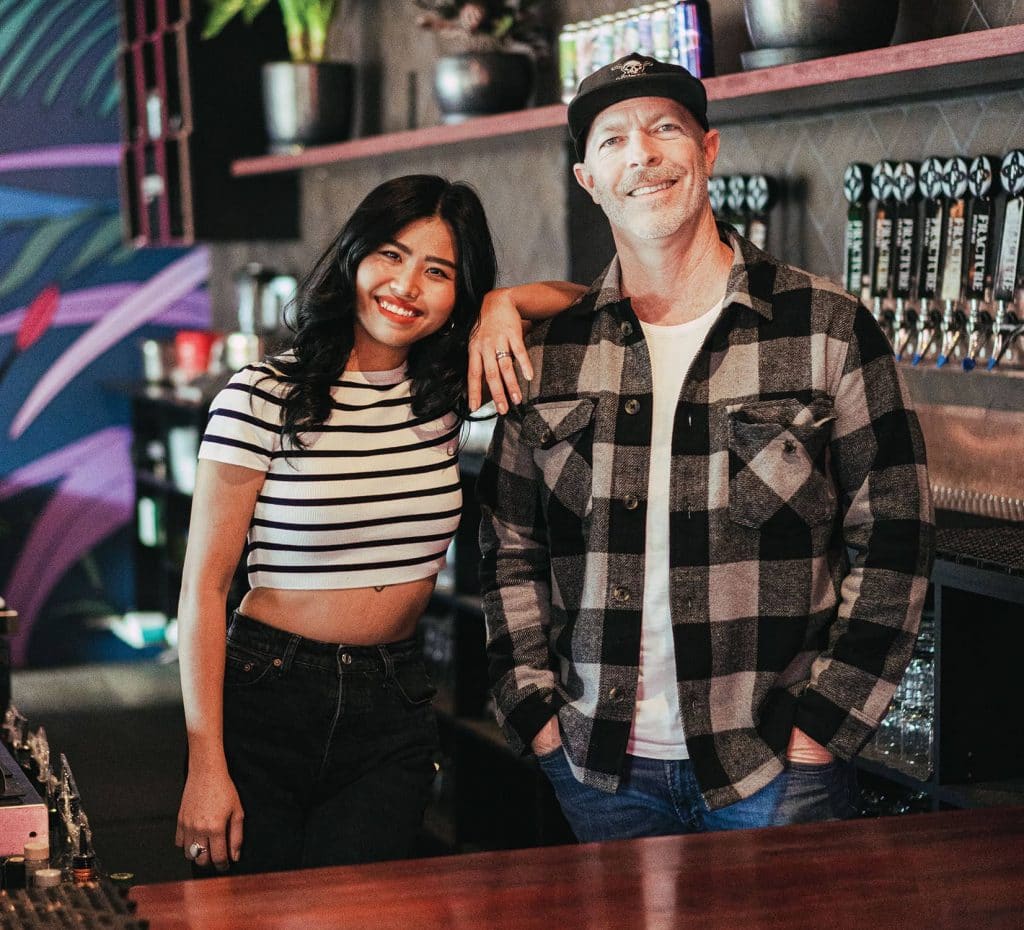 Fracture Brewing owners Ny and Darren Prozenzano. | Photo by Michael Hoshina/@portland.general.eater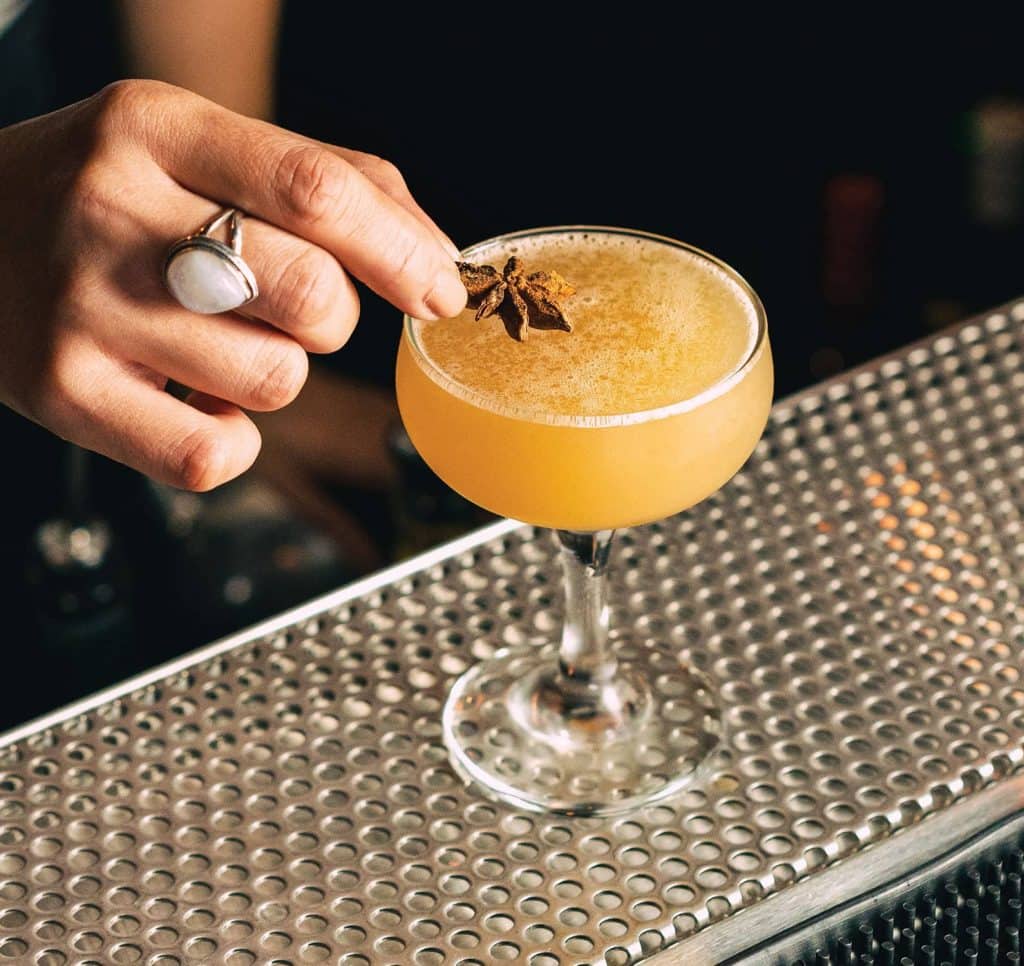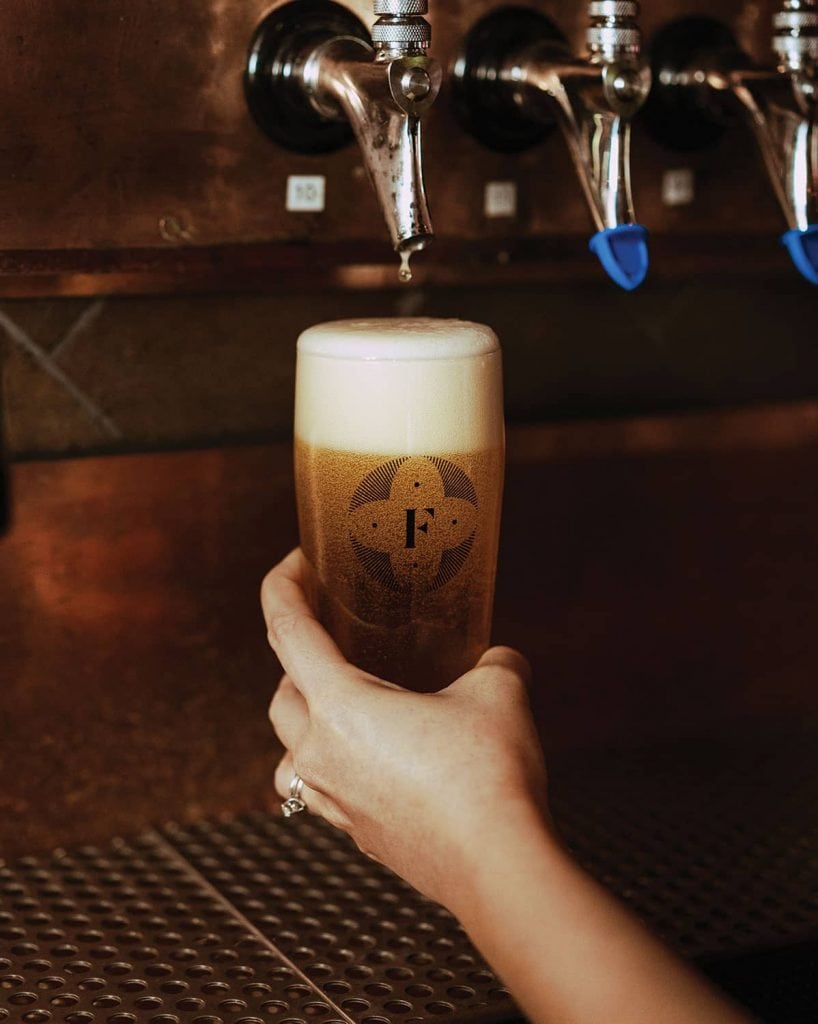 Fracture Brewing's The Lucky Money cocktail and a pour of beer. | Photos by Michael Hoshina/@portland.general.eater
Customers go to cocktail bars expecting creative drinks and expert execution, experiences not easily replicated at home. But at liquor-licensed taprooms, it can be a tall order for bartenders to pour pillowy pilsners and prepare complex garnished cocktails. Husband and wife Darren and Ny Provenzano opened Fracture Brewing's Portland, Oregon, taproom in early December with his IPAs and dark lagers and her tropical cocktails incorporating pandan leaves, coconut milk, and passion fruit. "I want to bring in flavors from my home in Vietnam," says Ny, who worked in the hospitality industry in Saigon, where she met Darren. Ny delivers maximal taste in minimal-ingredient cocktails like the bourbon-and-lime Lucky Money, flavored with five-spice syrup, and the mezcal, crème de cacao, Baileys, and coffee liqueur Saigon Never Sleeps. "I tried to not make the cocktails really difficult," she says.
At Halftone Spirits, which shares production and taproom space with Finback Brewery's Brooklyn location, founder Andrew Said Thomas shies away from classic cocktails starring his aquavit, vodka, and gins. Making a Pimm's Cup or Manhattan "didn't move the needle at all," he says. "The more innovative we became, the more cocktails we sold." One of Halftone's best-selling cocktails is the pink-hued Magenta Spritz, featuring grapefruit soda and a fruit-forward gin colored with dried raspberries and cochineal, and the distillery introduces a new cocktail monthly. Measuring, shaking, and serving cocktails provides pageantry amongst the pints, spurring additional sales. "It's hugely beneficial in a taproom to have the Pavlovian response of seeing cocktails being made," Thomas says, adding that most tables feature a mix of people drinking cocktails and beer. Since opening in 2020, "we've seen a higher proportion of people coming in just for cocktails than we anticipated."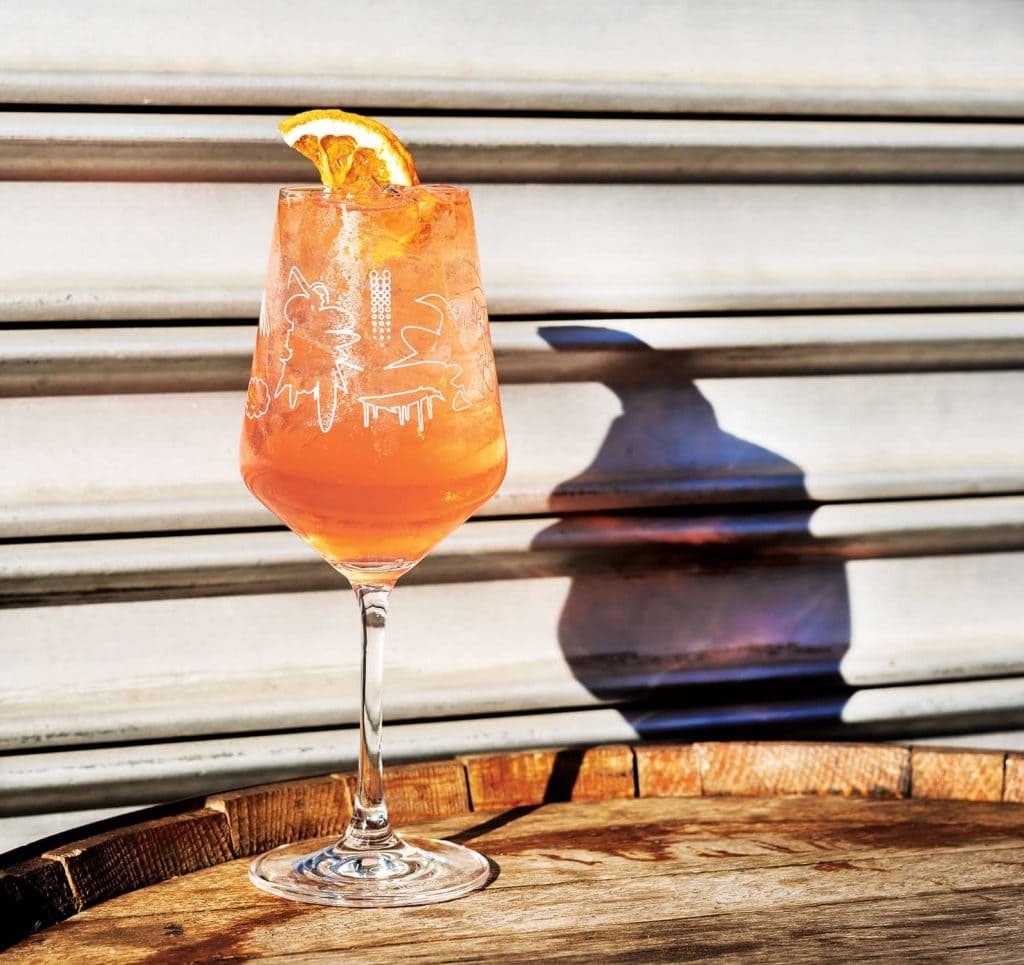 Halftone's Magenta Spritz. | Photo by Kyle Gonzales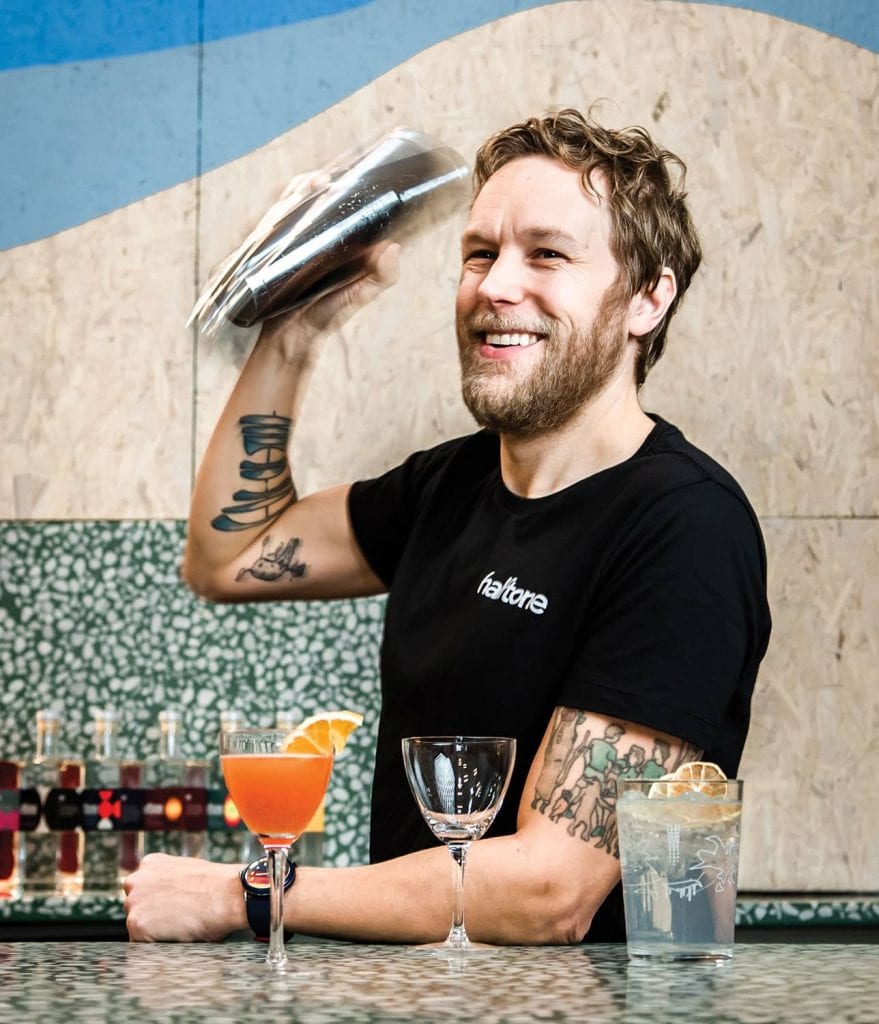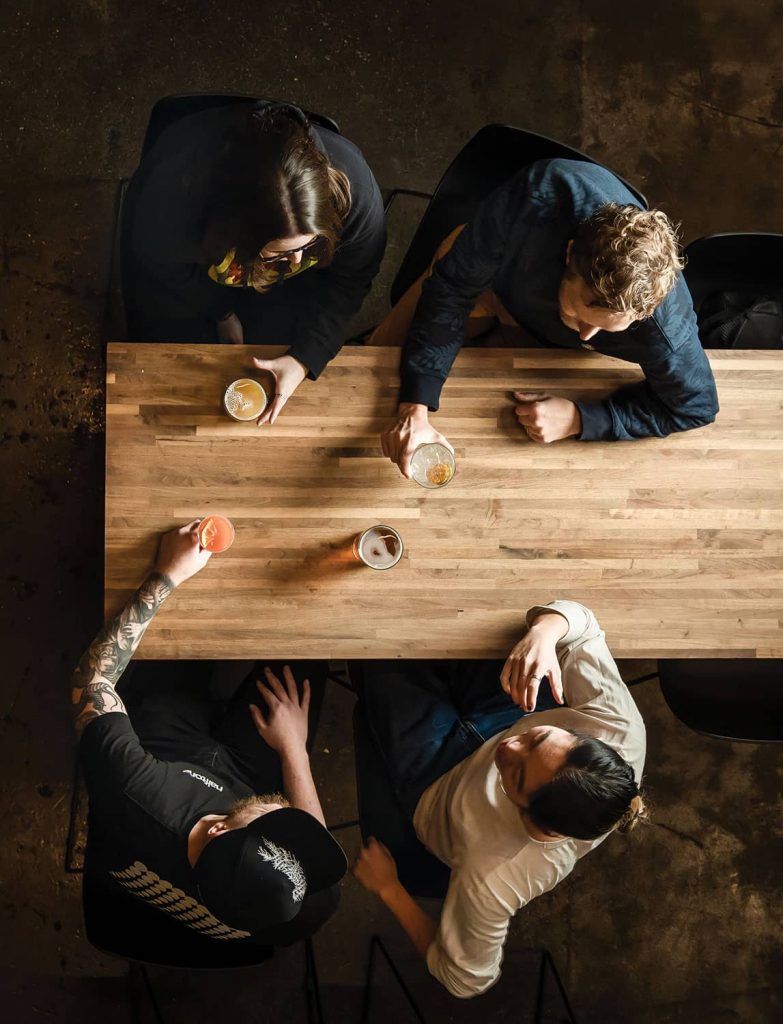 Halftone Spirits founder Andrew Said Thomas and the taproom space Halftone shares with Finback Brewery. | Photos by Kyle Gonzales
The connection between beer and cocktails once felt forced, like a mismatched couple struggling to make a marriage work. Last decade's fizzy optimism over beer cocktails, for example, fell flat as bars realized that adding one ounce of IPA to a mixed drink left lots of liquid in a bottle or can. "The quantities used are so small," says Jacob Grier, author of Cocktails on Tap: The Art of Mixing Spirits and Beer . More over, beer just becomes one ingredient among many, lost amid the bourbon and demerara syrup.
Today's approaches to blending spirits with beer and cocktails with breweries feel more intentional—and essential to the bottom line. Gone are the heady days when folks lined up for barrel-aged stouts and double IPAs, each release more anticipated than the last. No beverage category can continually burn white hot without some fans experiencing burnout. "I like beer, but I don't want to drink beer all the time," Thomas says.
Delivering new experiences and flavors requires breweries to look behind the bar and dig deep into the creative well. At Bottle Logic, Langton is thinking like a brewer, bartender, and distiller for future Lightning in a Bottle releases. She's considering creating custom hard seltzers for barrelaging, fermenting molasses for a rum barrel, agave syrup for a tequila cask, or a smoked malt base for something Scotch inspired. It's an exploration into the creative unknown, a flavorful journey that craft breweries are well equipped to undertake. "That's how you keep moving forward," Langton say.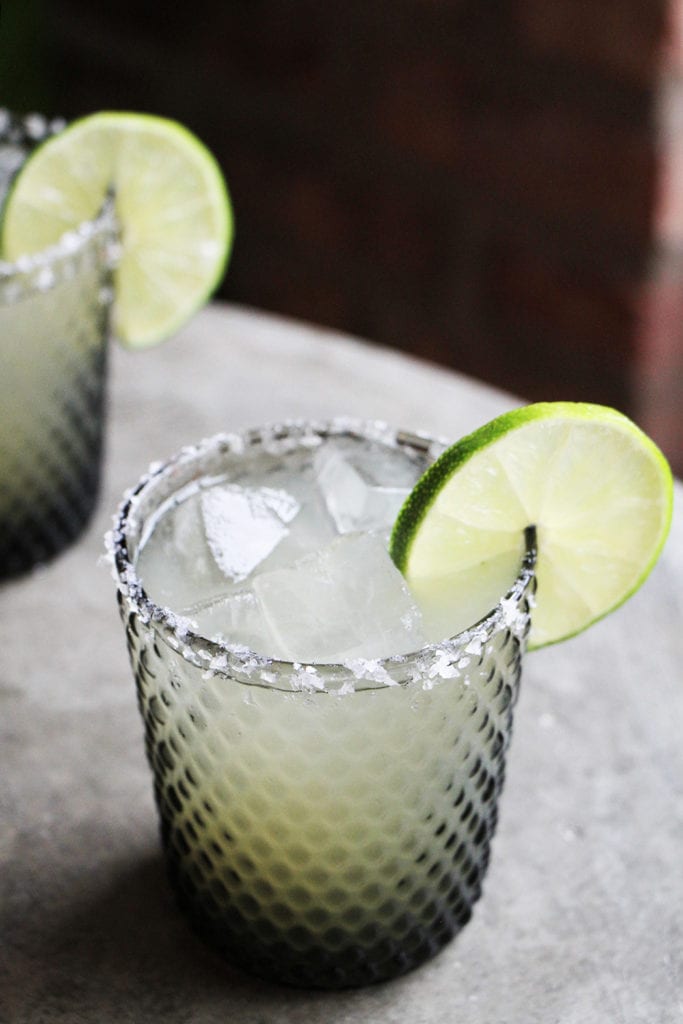 Classic Margarita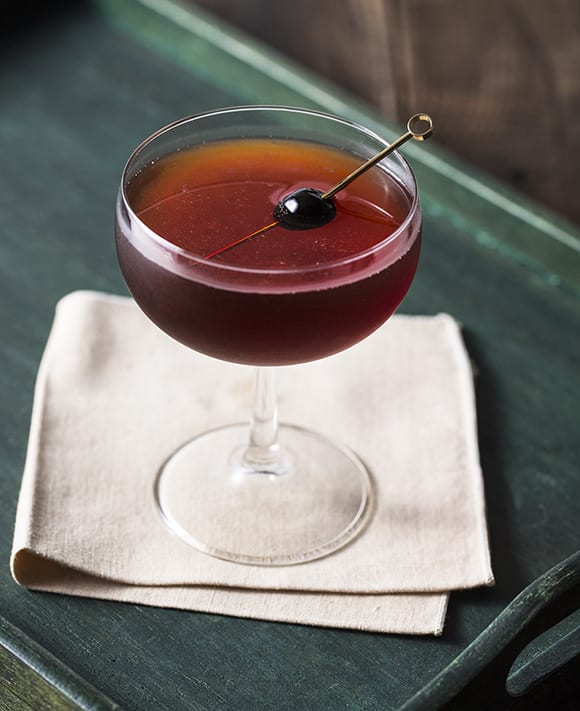 Manhattan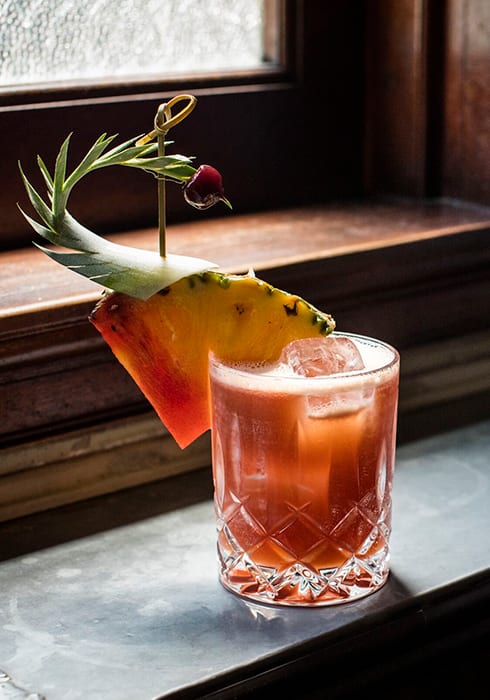 Maison Premiere's Jungle Bird