Retweeting Boak and Bailey's tweet pointing to their weekly roundup of interesting writing about beer and pubs, I commented "In which I am reminded a 'thing' maybe still be a 'thing' after it has been written about so much it seems there is nothing 'new' to write. Case in point, this morning I learned the Bermondsey Beer Mile 'is still a thing.'"
To which Alan McLeod replied: "Isn't 'a thing' different from 'still a thing' in that to be 'still a thing' there needs to be a reasonable length of time when it really wasn't a thing even if there are those who thought the thing was thoroughly thingy throughout." That was probably more than I was prepared to think about before breakfast on Saturday (this is where I should insert a photo of my food, but I will not).
My comment, however, is something I had been thinking about since it was announced Scratch Brewing is a semi-finalist for a James Beard Award. In the first few years after Scratch began selling beer in 2013 there many, many stories about the brewery. It was, and is, a great story. But if (almost) everybody writes one time about a place all at once then pretty soon there are no new stories.
Scratch's post about the awards had 725 likes on Instagram this morning, and a similar one on Facebook had 594 likes. To many people Scratch is still a thing, even if the story faucet is no longer running wide open.
You might also enjoy: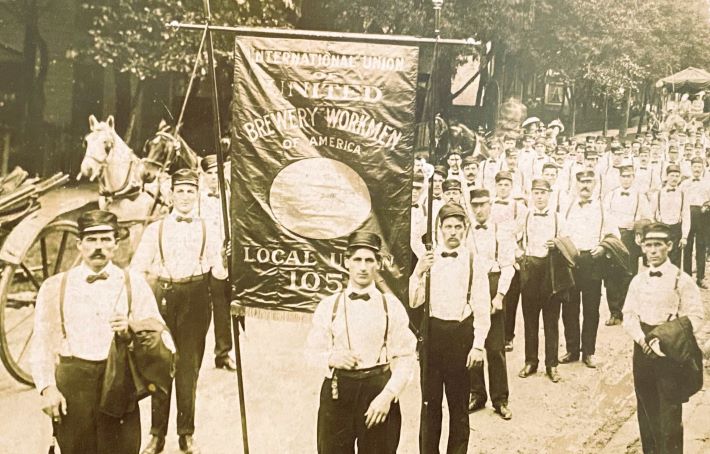 So you understand I might be biased, I think unions are on balance a good thing. I know they aren't perfect but most of the "cons" on pro and cons lists are bullshit. I once worked for a newspaper in which members of the editorial department were not represented by a union. And I worked for one, both inside and outside of management, where they were. Not only was the second a better place to work, for both union members and those in management, but I think having the union in place made the newspaper better.
That said, here is a straight up news story from The RedBlack, the University of Georgia student newspaper:
"On Tuesday, a majority of employees from Creature Comforts Brewing Company filed a petition with the National Labor Relations Board for a secret ballot election for employees to vote to be represented by their newly formed union, the Brewing Union of Georgia, according to a press release from the union.
"BUG intends to become a fully independent union for breweries across the state. Various community leaders and union members delivered the letter requesting voluntary recognition on Jan. 13 to management requesting a response in three days, the release said. On Jan. 16, management said they would consider the request.
"Since the company did not immediately agree to recognition, BUG proceeded with filing for the election."
Of course, it isn't that simple. To understand what is going on you really need to be reading Fingers , Dave Infante's Substack newsletter. Both his Wednesday report and a follow up (scroll down) on Saturday . Really, go do it now.
PorchDrinking has a "what does it all mean" story, and it includes a list of pros and cons (scroll about half way down). You could center an enthusiastic debate in a brewery taproom around any of the first five cons offered by Jon Hyman at the law firm Wickens Herzer Panza.
But No. 6 . . . wow.
"Nothing in the employer-employee relationship is supposed to be equal."
Really?
Brewery cats. "Working cats" are not friendly or otherwise compatible with normal home life. A Kentucky Humane Society program finds homes for them, including at breweries. "At a lot of shelters that don't have a working cats program, [these cats] wouldn't be adoption candidates and they would probably be euthanized," said the program manager.
Ghost pubs. In Brussels. If that doesn't have your attention, the images are a product of a Praktica L and Kodak Portra 400 film.
An old story becomes a new story in Uruguay. This reads like an origin story that has been told thousands of times during the last 40 years in the United States. Things like this happen: "But only a few months before the scheduled shipment was supposed to arrive, the location they thought they had secured fell through. They were left with a fortune in state-of-the-art equipment about to be unloaded into the busy port with nowhere to go."
And to be filed under wait-didn't-these-breweries-just-open?, "they took inspiration from breweries like Grimm Artisanal Ales in Brooklyn, 2nd Shift Brewing in St. Louis, and Tripping Animals Brewing Co. in Miami."
Requiem for Fat Tire. "As Fat Tire Moves On, I Miss the Old Belgium."
The official beer of . . . World Axe Throwing League. The beer is Pabst and this is a real story.
Mic drop:
Wow. Why didn't we think of this? Because it's a dumb idea that tastes awful. Craft beer is better than this. Craft is about flavor, not shock and novelty. Forgetting that belittles the hard work required to make it. #beerflavoredbeer #craftbeer @avbc https://t.co/s2WiO7eK5j
— Gordie.McGee (@McgeeGordie) January 28, 2023